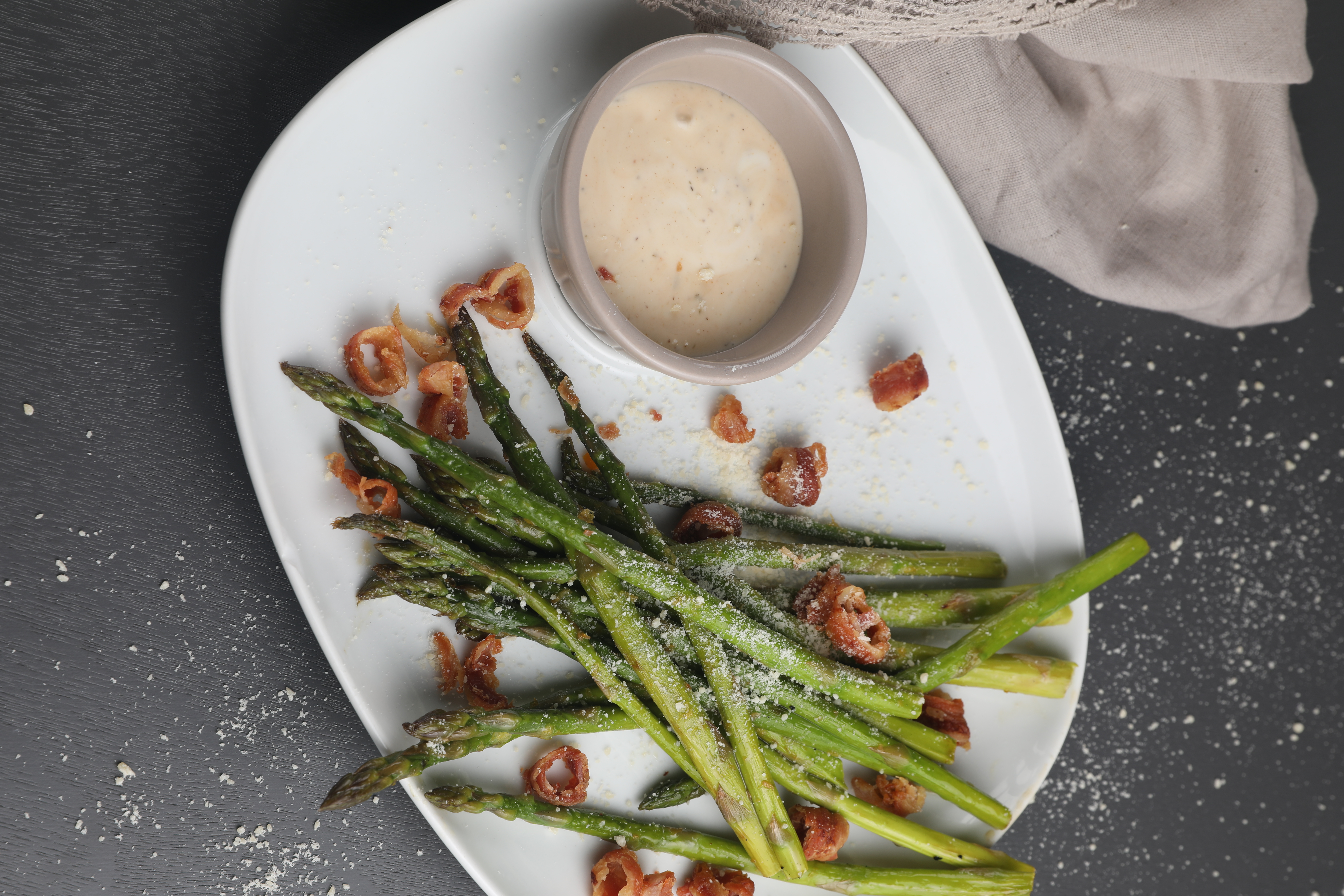 Glazed Asparagus With Bacon
This smoky asparagus will add vibrance and sophistication to any main dish and can also be served as a starter with a dipping sauce of choice. The smoky bacon and parmesan make it even harder to resist.
Cuisine: American
Sous Vide Cooking Time: 
10-20 minutes
Recipe Type: Side, Gluten-Free
1 bunch asparagus (1lb/450g) potatoes, trimmed
2 whole garlic cloves, peeled
3 tablespoons mayonnaise
1/2 teaspoon smoked paprika
2 teaspoons mustard
1 teaspoon lemon zest
¼ cup parmesan cheese, finely grated
3 strips cooked crispy smoked bacon, crumbled
Salt and freshly ground pepper, to taste
1
Insert your Saki Sous Vide Cooker into a pot or another sous-vide -friendly container; fill the pot with water between the MIN and MAX marks and set the temperature to 182.3°F/83.5°C.
2
While the water is heating, combine asparagus, garlic cloves, mayonnaise, paprika, mustard, and lemon zest in 1-gallon zip-lock bag (or use a vacuum-sealing bag). Season to taste.
3
Once the water temperature is reached, insert the bag into the water or clip onto the side of the container. If using a zip-lock bag, use the water displacement method to remove the air by slowly submerging the bag into the water and then sealing. To prevent floating, place 2 heavy dessert spoons into the bag.
4
Set the cooking time to 10 minutes if you prefer crispy asparagus or to 20 minutes for a more tender one.
5
When the time is up, remove the bag from the water and check the asparagus for doneness.
6
Transfer asparagus to a serving plate, scatter bacon on top and sprinkle with parmesan cheese before serving.
Saki Sous Vide
Preserve the nutrients and flavor in your meals with the SAKI Sous Vide.