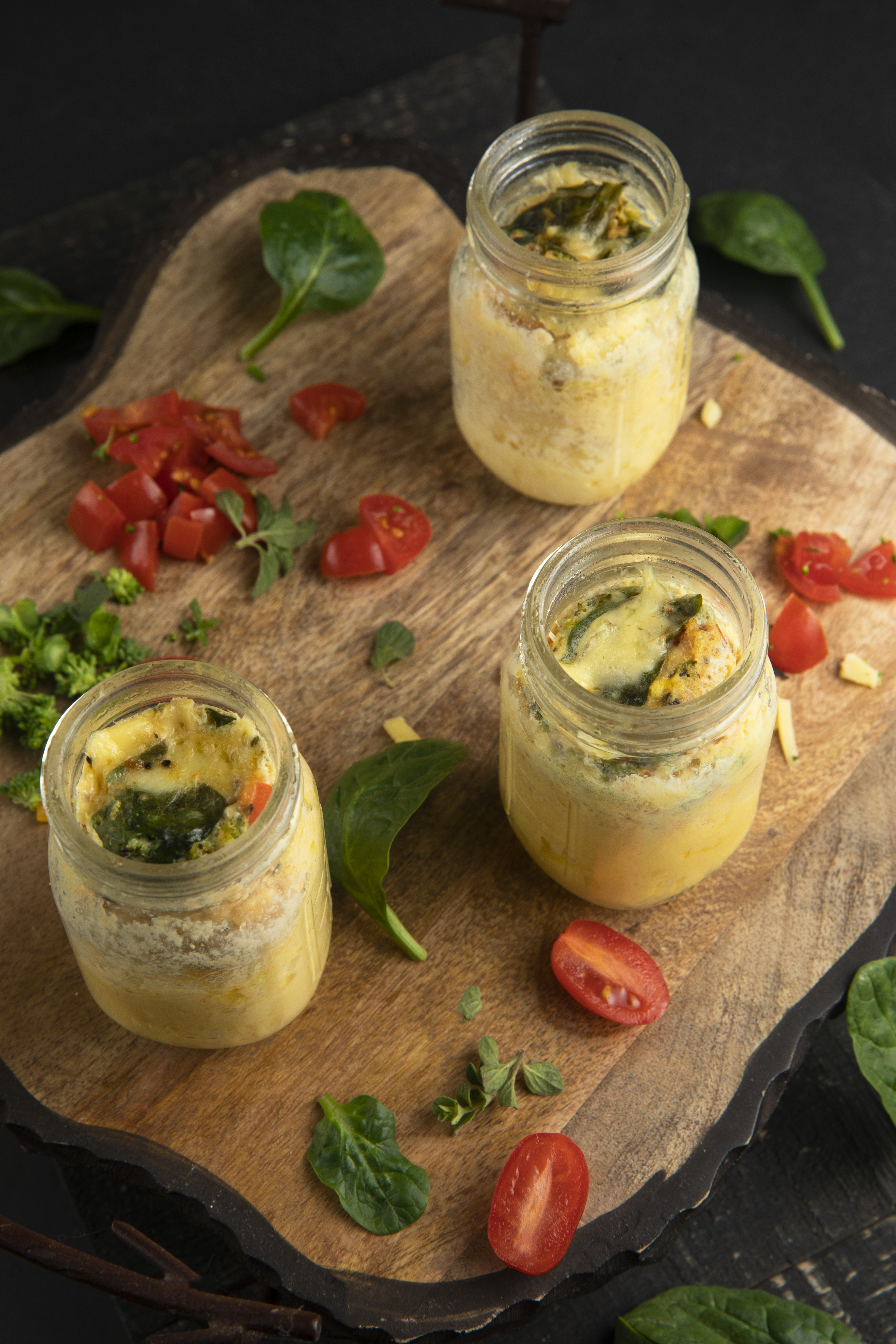 Egg Bites With Bacon And Cheese
Add variety to your breakfast eggs with these amazing creamy egg bites. They are easily customizable, and you can use any cooked leftover vegetables to make them (or try cheese and eggs only). Use 4oz/115ml size for smaller bites or double the recipe and go for 8oz/230ml jars.
Cuisine: American
Sous Vide Cooking Time: 1 hour
Recipe Type: Breakfast, Gluten-Free
1 1/2 tablespoon butter 

6 eggs, lightly beaten

2 teaspoon cornstarch 

4 tablespoons cottage cheese 

4 tablespoons heavy cream

1/3 cup shredded cheddar cheese

3 slices bacon, cooked and crumbled

1/4 cup broccoli florets, chopped 

3 tablespoons mini red peppers, chopped 

Salt and freshly ground black pepper, to taste

A pinch of cayenne pepper (or a dash of hot sauce of choice), to taste
1
Insert your Saki Sous Vide Cooker into a pot or another sous-vide -friendly container; fill the pot with water between the MIN and MAX marks and set the temperature to 176°F/80°C.
2
Grease 6 (4-oz/115g) mason jars with the butter and set aside.. 
3
In a bowl, whisk together eggs, cornstarch, cottage cheese, and heavy cream together until smooth. Alternatively, place the ingredients in a food processor or a blender and pulse until smooth. Do not overmix. Season to taste, add cayenne pepper or hot sauce, if using. 
4
To assemble the egg bites, divide the shredded cheese among the jars, then top with the bacon, broccoli and red peppers. 
5
Pour the egg mixture on top and close the lids (avoid tightening the lids as the jars may crack in the sous vide). Using kitchen tongs or a slotted spoon, carefully insert the jars into the water and set the cooking time to 1 hour.
6
When the cooking time is over, remove the jars from the pot and check if the eggs are set (extend the cooking time is necessary). 
7
Serve at once or store in the refrigerator for up to 5 days. Reheat in the sous vide before serving. 
Saki Sous Vide
Preserve the nutrients and flavor in your meals with the SAKI Sous Vide.