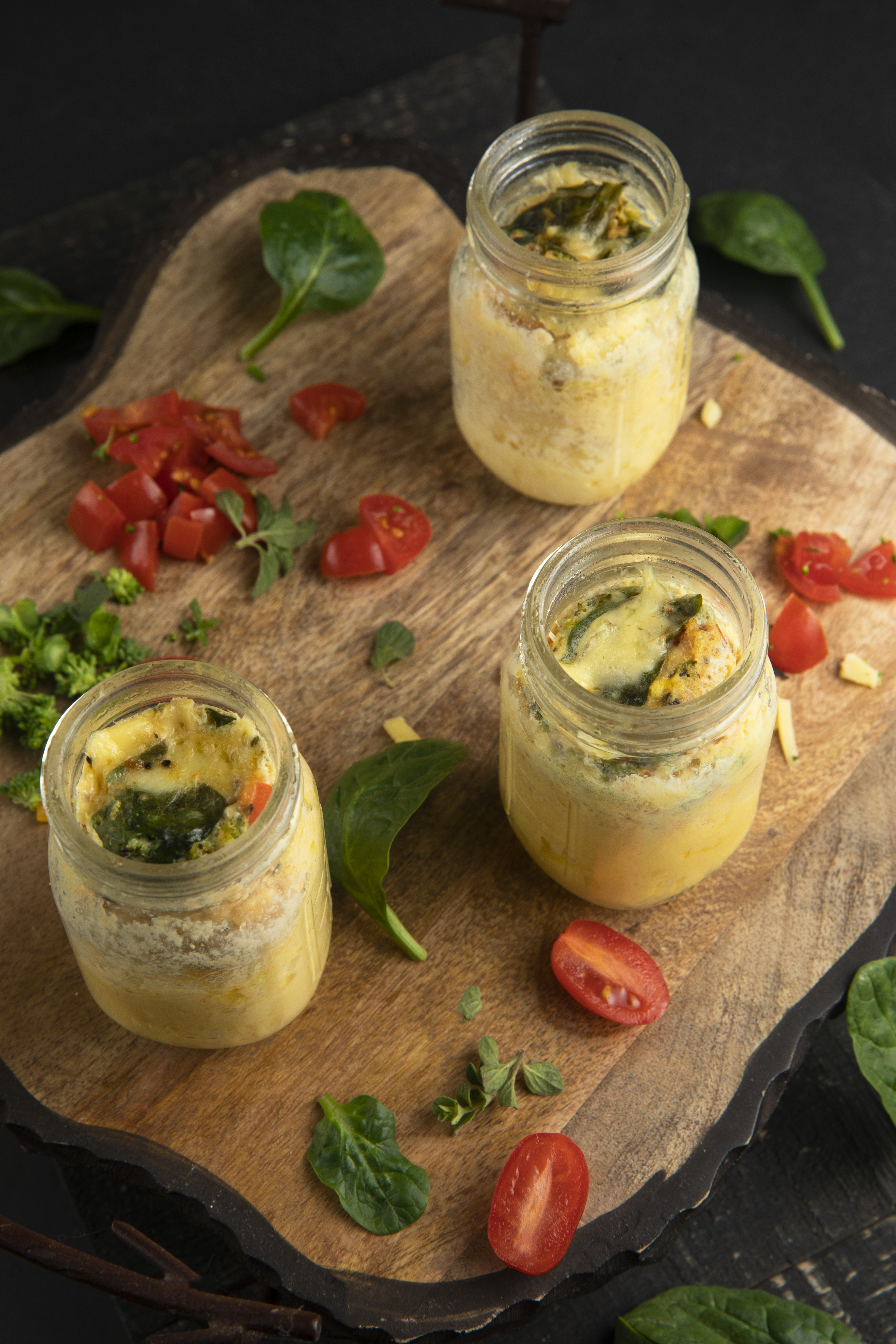 Egg Bites With Bacon And Cheese
Sous Vide Cooking Time: 1 hour
Recipe Type: Breakfast, Gluten-Free
1 1/2 tablespoon butter 

6 eggs, lightly beaten

2 teaspoon cornstarch 

4 tablespoons cottage cheese 

4 tablespoons heavy cream

1/3 cup shredded cheddar cheese

3 slices bacon, cooked and crumbled

1/4 cup broccoli florets, chopped 

3 tablespoons mini red peppers, chopped 

Salt and freshly ground black pepper, to taste

A pinch of cayenne pepper (or a dash of hot sauce of choice), to taste
1
Insert your Saki Sous Vide Cooker into a pot or another sous-vide -friendly container; fill the pot with water between the MIN and MAX marks and set the temperature to 176°F/80°C.
2
Grease 6 (4-oz/115g) mason jars with the butter and set aside.. 
3
In a bowl, whisk together eggs, cornstarch, cottage cheese, and heavy cream together until smooth. Alternatively, place the ingredients in a food processor or a blender and pulse until smooth. Do not overmix. Season to taste, add cayenne pepper or hot sauce, if using. 
4
To assemble the egg bites, divide the shredded cheese among the jars, then top with the bacon, broccoli and red peppers. 
5
Pour the egg mixture on top and close the lids (avoid tightening the lids as the jars may crack in the sous vide). Using kitchen tongs or a slotted spoon, carefully insert the jars into the water and set the cooking time to 1 hour.
6
When the cooking time is over, remove the jars from the pot and check if the eggs are set (extend the cooking time is necessary). 
7
Serve at once or store in the refrigerator for up to 5 days. Reheat in the sous vide before serving. 
Saki Sous Vide
Preserve the nutrients and flavor in your meals with the SAKI Sous Vide.